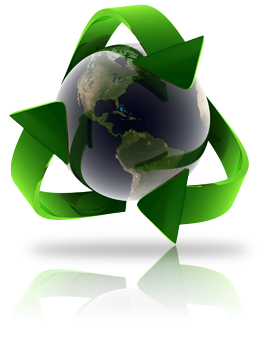 Environmental Leadership
Reinforcing our commitment to the environment, in 2007, Sharp Electronics received the Excellence in Partnership Green Contractor Award as well as the Evergreen Award from the U.S. Government's General Services Administration and the Coalition for Government Procurement. These awards recognize environmentally responsible business and their efforts in recycling, waste reduction and affirmative procurement practices.
Additionally, Sharp was one of the first members of the EPA's "SmartWay Transport Program". This voluntay alliance establishes incentives for fuel
efficiency improvements and reduction in greenhouse gas emissions through creating partnerships, reducing unnecessary engine idling and increasing efficiency. Sharp received the "SmarWay" Excellence award in 2006, 2007, and 2008.
Sharp actively participates n the EPA's "Plug-In to eCycling" program. This voluntary program was created to help reduce the environmental impact of electronic products during their production, use and disposal.
Sharp provides consumers opportunties to reycle end of life Sharp products across the United States through the use of the MRM recycling network. For information on product recycling locations near you please go to: www.mrmrecycling.com.